Processing, transformation and application of plastics through vacuum thermoforming.
Sophisticated state-of-the-art systems can manage both fully automated and semi-automated production cycles, allowing qualified personnel to intervene specifically when necessary in the production process.
P.PLAST supplies large businesses as well as highly specialised niche production. The company's focus on industrial upgrading and market dynamics are the foundation and driving force behind a continuous growth process, made possible by the quality of its service and labour.
From customer design to series production, P.PLAST handles every single step of contract production.
Prototypes are produced from two-dimensional drawings, mathematical formulas or sample prototypes in close cooperation with the customer.
CONTACT US
Benefits
Low cost, low time: the technology of vacuum moulding plastics allows optimisation of the process/production time ratio, for both prototype and series production.
1
Consulting and design
At the customer's side right from the consulting and design phase, with technical support throughout the design process.
2
Moulding
The technology used for moulding is vacuum thermoforming.
The plastic sheet is placed on the machine bed of the thermoforming machine, heated and then formed by vacuum onto male or female moulds.
Our systems can thermoform sheets with formats from 230×300 mm up to 2500×3500, with thicknesses from 1.5 mm up to 8.0 mm.
3
Finishing
The technology used for finishing is numerically controlled mechanical cutting.
The workpieces are finished (perimeter trimming and drilling) after moulding with the support of fibreglass resin or polyurethane templates and the use of numerically controlled cutting centres equipped with mechanical cutters.
4
Manual processing
Qualified personnel carry out manual processing on benches.
Assembly with structural and two-component adhesives, application of inserts, plates and gaskets, deburring.
5
Logistics
Development of logistics solutions tailored to customer needs: from simple packaging to dedicated assembly line support.
6
External processing
The company uses qualified external suppliers to apply pad printing and screen printing.
10 Vacuum thermoforming machines
State-of-the-art equipment that can manage both automated and semi-automated production cycles.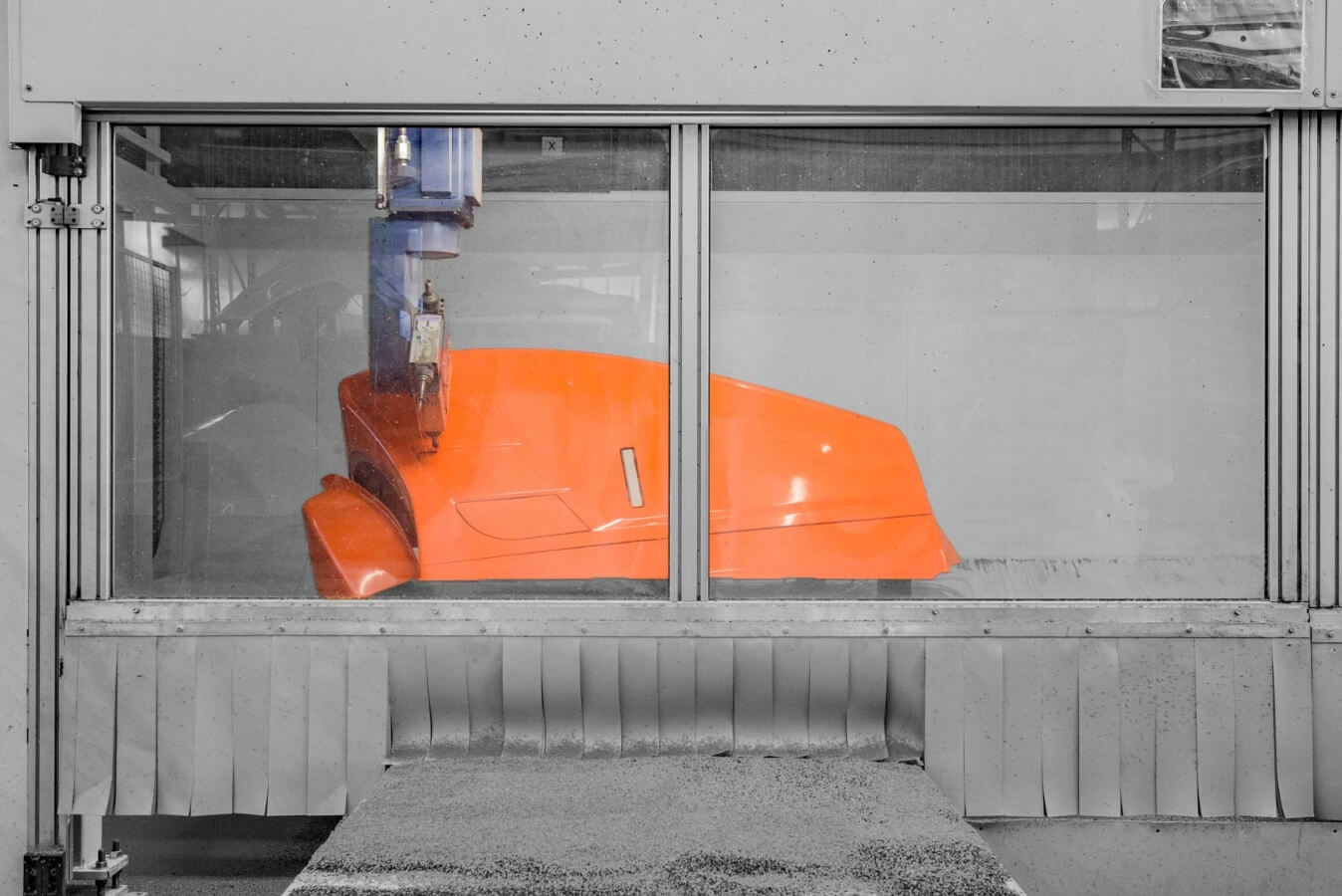 9 CNC cutting centres
Centres for high-speed machining of plastics and composites. Dedicated programming systems that can create the cutting program from the 3D model or directly from a sample part mounted on the machine.
Contact us and request a quote
Request a free quote tailored to your needs.
Fill in the form, our staff will contact you as soon as possible.